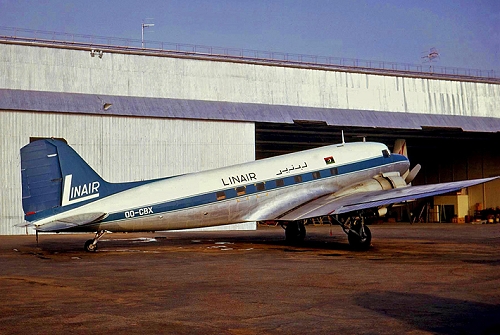 Date: 09/03/1969

Location: TIP/HLLT

Photo: Ken Fielding

Description: this airframe of Sabena was delivered at Brussels on March 10 1953. A month later it was transferred to the Belgian Congo to conducts flights over there.under the umbrella of Air Katanga. It returned on May 5 1962 and went a month later to Linair to conducts flights within Libya. The contract with Linair was terminated on July 1 1965, but a few years later on November 20 1967 BIAS took over these operations. The aircraft did undergo no change in color scheme: the old (airframe finals) Sabena livery with Linair titles and Libyan flag.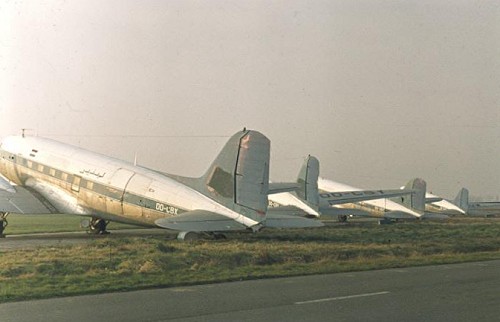 Date: -

Location: BRU/EBBR

Photo: collection Skystef

Description: four airframes stored after been returned by Linair wearing basic old (but final) colors of Sabena with "Linair" titles in Arabic script and the new tail logo's wiped out: they include OO-CBX, OO-CBY, OO-UBT and OO-AUW.
Date: 09/07/1973

Location: KJK/EBKT

Photo: collection Skystef

Description: in this outfit, it was ferried to Kortrijk on March 31 1973 for further storage. Over there, on July 5 1973, it was cancelled to "N6894", but a couple of days later still spotted with the Belgian registration. On August 17 1973, it left for the States to its new operator.