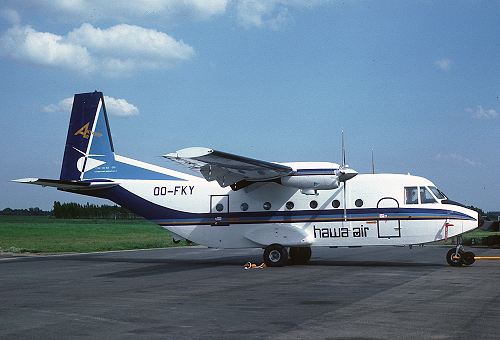 Date: 05/1986

Location: ANR/EBAW

Photo: collection Skystef

Description: delivered at Antwerp on May 20 1986 to Antwerp Air, this Aviocar which was rent bought from Finop Lease, wears the colors of the manufactor CASA with "Hawa Air" titles of the parent company and "Antwerp" titles in the tail. After some local training flights, a courier service on behalf of the Belgian Post was established to Sweden from Brussels. On August 23 1986, the aircraft was impounded at Brussels but departed anyhow three days later to Antwerp where it was once more impounded due to non payments to its lessor Finop Lease. The owner won the battle in the courtroom, resulting the airframe was confiscated and leased to another Belgian company (see below).
Date: 12/1986

Location: BRU/EBBR

Photo: collection Skystef

Description: on September 30 1986, it was leased to European Air Transport as back-up aircraft. Here depicted in their color scheme with unchanged cheatline which was adopted in November 1986.